Blog Overhaul (China Glaze Spellbound over Revlon Silver Screen) and Glitter Removal
So, hey! I've been away from this blog for a while and now that I've come back, I've decided to head in a different direction. This blog will focus mostly on my favorite hobby, nail polish. Of course I have a lot of other interests, so the occasional post about a delicious recipe, beautiful fashion show, favorite athlete, great book, or silly story might just pop up, but I'll try to be consistent with the polish posts, since that's one of the most important things to me in a blog.

In the past few months I've become a huge collector of nail polish (500+ and counting), and I want to get better about posting my NOTD's on the Nail Board of Makeup Alley. Unfortunately, being a full-time college student majoring in Written Communications and Pre-Med (either an editor or a surgeon - how's that for disparate career choices?) and working two part-time jobs, puts a bit of a damper on my ability to do this. BUT... I have the month off for J-Term, and I've got about 10 days of sitting on my butt with nothing to do but sip ice chips (yeah, an adult tonsillectomy? not highly recommended - at least by me), so I'm going to try and get it kick started. I think the main problem for me on NB is that I like to look at lots of pictures, but I don't have time to take lots of pictures. So, I end up waiting a month or so for my NOTD's to accumulate and then I'm already bored with talking about them. Hopefully this blog will mitigate that by allowing me to get my pictures up on a day-by-day basis, as they happen.

Here's one of my favorite NOTD's from October. I did about 4 Halloween-themed mani's, but this one was just so blingy! It stood out. A definite, keep-your-eyes-on-the-road-while-you're-driving manicure - the sunlight reflecting off all of the glitter was super distracting.
I used 2 coats of China Glaze in Spellbound Topcoat (Halloween 2009 "Spellbound" collection). Spellbound is a glitter in a transparent base but it is dense enough to use on its own. The main component is medium hexagonal silver glitter and small hexagonal orange glitter. There is also large hexagonal orange glitter more interspersed. I layered Spellbound over 1 coat of Revlon in #918 Silver Screen, a silver metallic that shows brushstrokes but is pretty opaque and thus good for layering. I think Silver Screen is discontinued, but it's still available online.
Indirect natural light - indoors, direct flash
Indirect natural light - indoors, direct flash

I cannot get over how reflective this was. I probably took about 50 pictures of this. The mix of medium and smaller glitter layered over each other looked like cool metallic fish scales or armor. It was just right to ease into Halloween madness, since the orange didn't overpower the silver and get too theme-y.
Indirect natural light - indoors, direct flash
And the gloss! I did two layers of Seche Vite over this crazy-bumpy glitter and... well, you can see the insanity below. It reminds me of those Asian wood-lacquer cabinets that are shellacked like fifty bajillion times until they're as shiny as a lollipop. From far away, it reminds me a bit of the new Minx fad as far as reflective shine.
Indirect natural light - indoors, direct flash, indirect natural light - indoors
Of course, the downside to wearing glitter is always the cleanup, but on the NB there are two methods that have come to be favored.
The tinfoil method - Here's Nihrida's super easy tutorial. I first remember seeing this attributed to tobywoo; regardless, this method never fails. I like to do one hand at a time, letting my fingers sit in their tinfoil "hats" for about five minutes, before swiping the cotton - and the glitter - off in one stroke.
An 100% Acetone Nail Polish Remover tub - aka the "angry pink va-jay-jay" or that alien from Star Wars.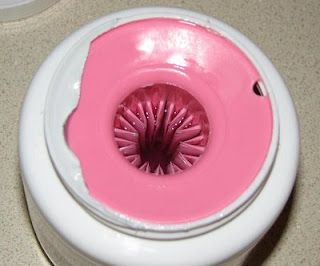 Picture via www.sashasays.com
Yes, it looks crazy (you have LaLa86 on the NB to thank for its illustrious nickname), but it seriously works like magic. Just stick your finger in the tub, swirl it around for a few minutes and, voila! You will be glitter-free. Another great thing about this tub is that it is reusable - just dispose of your used acetone (once it gets really stained, I leave my tub open in the garage until it evaporates; you can also saturate paper towels with it and throw them in the trash; obviously don't throw this down the drain!) and refill it with fresh.

Some people say that warming acetone helps remove polish faster - maybe it does, but you might die finding out! Acetone is extremely flammable: do not heat!

This post is a bit long, so I think I'll stop here. My next post will be my nail polish essentials or some more October NOTD's. If I'm feeling really crazy (or doped up on Percocet), you might get both! Hopefully I'll get the hang of this and work out a posting schedule soon. If you enjoyed this, please leave me a comment and come back soon!
Edit: Hee, I just noticed that I messed up the watermark on some of my pictures, so they say jRoy13 instead of jRoxy13. I'm not usually so careless, but I am under constant influence of pain killers at the moment (p.s. you will not feel any better from your tonsillectomy after four days), so that's my story and I'm sticking to it!